Rhomann Dey's Wife is the Krylorian wife of Xandarian Rhomann Dey.
Biography
During the Battle of Xandar, she and her daughter were evacuating the city when a Necrocraft attempted to dive bomb their location but was destroyed by Rocket's M-ship before reaching the ground.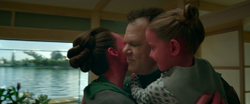 After the battle, she and her daughter greeted Rhomann Dey when he arrived home.[1]
Relationships
Family
Gallery
Trivia
References
External Links