Ad blocker interference detected!
Wikia is a free-to-use site that makes money from advertising. We have a modified experience for viewers using ad blockers

Wikia is not accessible if you've made further modifications. Remove the custom ad blocker rule(s) and the page will load as expected.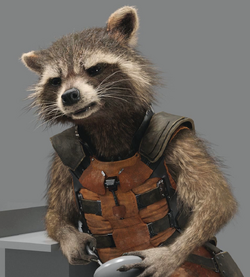 A collection of quotes of Rocket Raccoon, a member of the Guardians of the Galaxy.
Movies
Spoken by Rocket Raccoon
"This one here's our booty!"
―Rocket Racoon to the prisoners
"Ain't no thing like me 'cept me! "
―Rocket Racoon
"Aw, what the hell, I don't got that long a lifespan anyway..."
―Rocket Raccoon
"I live for the simple things...like how much this is gonna hurt."
―Rocket Raccoon
"You got issues, Quill."
―Rocket Raccoon
"Xandarians. What a bunch of losers! Always trying to get from something stupid to nothing at all."
―Rocket Raccoon
"Pretty high and mighty coming from the lackey of a genocidal maniac. Yeah, I know who you are. Anyone who's anyone knows who you are."
―Rocket Raccoon
"I guess most of Nova Corps wanna uphold the laws, but these ones here, they're corrupt and cruel."
―Rocket Raccoon
Spoken about Rocket Raccoon
"Rocket. Wanted on over 50 charges of vehicular theft and escape from lockup."
Dialogue
"Your criminal records have also been expunged. However, I have to warn you against breaking any laws in the future."
"Question. What if I see something that I wanna take and it belongs to someone else?"
"Then you will be arrested."
"But what if I want it more than the person who has it?"
"Still illegal."
"That doesn't follow. No, I want it more, sir. Do you understand me? What are you laughing at? What? I can't have a discussion with this gentleman?"
―Rocket and Rhomann Dey.
"No, Groot... don't do this, you'll die... why are you doing this?"
"WE are Groot."
―Rocket and Groot.
"There's one more thing we need to complete the plan. That guy's eye..."
"No! No, we don't. No, we don't need that guy's eye."
"No, seriously, I need it! It's important to me."
―Rocket and Star-Lord
"Rocket!"
"Hold on, Saal, just--"
"Aargh!!!"
―Rocket and Garthan Saal seconds before his death