"This is one shitty excuse for a hideout."
The Royal Dragon is a Chinese restaurant that was used as shelter for the Defenders.
History
Seeking Shelter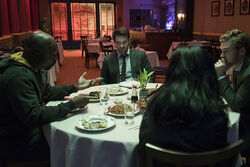 "We're closed."
"We need to kill the lights."
"How do you even know they're on?"
"Hey, I said we're closed!"
"We need to stay off the streets."
"Well, stay off them somewhere else."
―Zhang, Daredevil, Jessica Jones and Luke Cage
To be added
"This wouldn't be my first choice, but I am a sucker for fortune cookies."
To be added
Appearances
In chronological order:
References