Marvel's Runaways Trailer (Official) - A Hulu Original
"They're teenagers. The last thing they're interested in is what their parents are up to."
Marvel's Runaways, or simply Runaways, is a television series that star the team of the same name. It is produced by Marvel Television and airs on Hulu.
On August 17, 2016, the series was officially ordered by Hulu.[1] The first season premiered on November 21, 2017.[2]
On January 8, 2018, the series was renewed for a second season.[3]
Season Synopses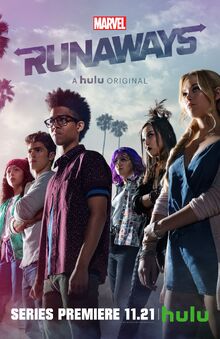 Marvel's Runaways is the story of six diverse teenagers who can barely stand each other but who must unite against a common foe – their parents.[2]
To be added
Cast
Starring Cast
Recurring Cast
Behind the Scenes
In 2008, Marvel Studios began developing a script based the comic series Runaways with Brian K. Vaughan writing and Kevin Feige producing.[4]
In April 2010 director Peter Sollett emerged as the front runner to direct the movie.[5]
In May 2010, British screenwriter Drew Pearce was reported to be writing the film for Marvel Studios.[6]
In July 2010, it was reported that filming would begin in March - July 2011.[7]
On August 5, 2010, casting for the film began. Actress Keke Palmer was approached for a role in the film.[8] Lucas Cruikshank also auditioned for a role in the film.[9]
On February 6, 2014, Drew Pearce told Total Film magazine that he had no idea whether or not Runaways had a spot in Marvel's Phase Three plans.[10]
On October 28, 2014, during a Question & Answer session at a Marvel live event, Kevin Feige said the script for Runaways is what brought Drew Pearce to his attention so that Pearce could ultimately assist in writing Iron Man 3. However, the script remains in "Marvel's script vault" without present plans for filming.[11]
On August 17, 2016, it was announced on Marvel's website that the Runaways would be a Hulu series. [12]
In May 2017, Siddhartha Khosla was hired to score the series.[13]
References
External Links