"These are... Splinter Bombs."
"Yeah, the very same used in the UN attack and used to kill Sunil Bakshi. That name should mean something to you."
"One of these killed him?"
"Yeah, separated his atoms, leaving no remains."
―Yusef Hadad and Leo Fitz
Splinter Bombs are weapons created by HYDRA that weaponized the effects of the Obelisk.
History
Creation
Vincent Beckers, a HYDRA scientist who worked for Johann Schmidt, created the prototypes for the Splinter Bombs.
Toshiro Mori, a Japanese engineer with ties to HYDRA, received schematics from Daniel Whitehall and Skye's Father modifying the prototype and incorporating the power of the Diviner. After its creation, all of the Splinter Bombs Mori made were exported to be used by Marcus Scarlotti. [1]
Uses
HYDRA operatives attacked the United Nations Headquarters with Splinter Bombs while posing as S.H.I.E.L.D. operatives in an attempt to further discredit the organization in the eyes of the public.
The opening salvo was when Italian representative Adamo Dioli was hit in his chest with a bomb while he was responding to Glenn Talbot's speech. As the others in the room were struck with surprise and fear, Dioli disintegrated.
When a security guard responded to the invasion of HYDRA agents led by Marcus Scarlotti, he was hit with a bomb and killed.
As Talbot was ushering people from the meeting room, Scarlotti threw a Splinter Bomb at him. Talbot escaped with a broken arm, though six died in the attack.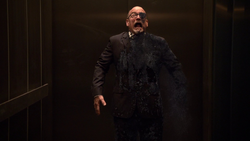 Bobbi Morse learned that the Splinter Bombs were created by Toshiro Mori from schematics given by Daniel Whitehall and Skye's Father, duplicating the powers of the Diviner.
Scarlotti then used the Splinter Bomb to personally kill Noelle Walters by stabbing her with the device and letting it burrow into her.
Lance Hunter kicked a HYDRA mercenary into the path of a splinter bomb, saving Morse's life. [1]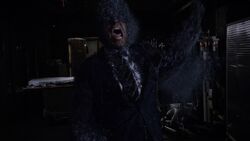 A Splinter Bomb was used by a minion of Octavian Bloom to kill a fellow leader of HYDRA as he used an elevator.[2]
Another Splinter Bomb was taken by Jemma Simmons to assassinate Grant Ward. When she was about to throw it on Ward, Sunil Bakshi interfered. The bomb burrowed into his body instead, killing him.[3]
Splinter Bomb Decoy
In his search to understand the Monolith, Leo Fitz created a case full of modified Splinter Bombs that gave off a flashbang effect, which he traded to a group of Moroccan gangsters in exchange for a scroll pertaining to the Monolith. When the gangsters turned on him and attempted to use a Splinter Bomb on him, it let out a large flash that enabled Fitz to flee with his prize.[4]
Destroying an Experiment
In Union City, Holden Radcliffe tried to use some of the Kree Reapers's blood for the Absolution Virus. However, Alphonso Mackenzie entered the warehouse and used a Splinter Bomb to destroy the Kree's body.[5]
Capabilities
Splinter bombs were created by Toshiro Mori, using the schematics created by Daniel Whitehall and Calvin Zabo. A previous attempt in its creation was documented in HYDRA Laboratories.
As the bomb burrows into the body of its target, the bomb releases an effect that replicates the petrifying power of the Diviner. The subject begins to disintegrate after a few seconds, quickly crumbling into mere atoms.
The bombs have a disc-like shape with symbols that glow one at a time when thrown, suggesting a timer or activation mechanism.
Appearances
in chronological order:
References