Sullivan was an officer who served in the United States Armed Forces.
Biography
Weapons Demonstration
Tony Stark's Jericho Missile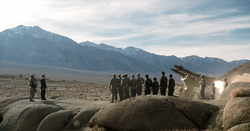 Sullivan joined the United States Air Force and rose to the rank of Officer. Sullivan attended Tony Stark's presentation of his Jericho missile in Afghanistan before Stark's kidnapping by the Ten Rings.[1]
Allies
References