Sunil Bakshi was a virtual recreation of the real-world person of the same name inside the Framework. A HYDRA loyalist, Bakshi was in charge of spreading the organization's propaganda through his program The Bakshi Report. While reporting on the death of the Patriot and the attack on Madame Hydra, Bakshi and all his staff were attacked by S.H.I.E.L.D. agents who sent out a new message of hope from his network to the people of the world.
Biography
The Bakshi Report
Loyal to HYDRA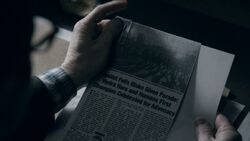 The host of The Bakshi Report, a program that praises HYDRA and its activities, Sunil Bakshi was the recipient of a Lifetime Achievement Award. When HYDRA organized a parade to honor Felix Blake and the Humans First movement, Bakshi was among the attendees.[1] While he sent out propaganda messages to the people until the direct orders of HYDRA's leadership, Bakshi's voice was also used by HYDRA to brainwash children at the HYDRA Enlightenment Cultivation Center in order to ensure they remained loyal to their rule over the world without question.[2]
Reporting the Patriot's Death
To be added
Reporting the Triskelion Attack
To be added
Confronted by S.H.I.E.L.D.
To be added
Personality
To be added
Relationships
Allies
Enemies
Gallery
References