Ad blocker interference detected!
Wikia is a free-to-use site that makes money from advertising. We have a modified experience for viewers using ad blockers

Wikia is not accessible if you've made further modifications. Remove the custom ad blocker rule(s) and the page will load as expected.
Susan Harris is a real estate agent for Midtown Property Solutions.
Biography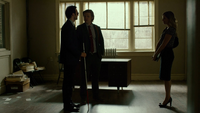 Harris gave Matt Murdock and Foggy Nelson a tour of an office in Hell's Kitchen when they had been searching for a spot to set up their new law firm. While showing the office to the two, she made a passing joke that the two of them could flip a coin to decide who could have the office with a view, though she apologized for it as soon as Murdock arrived, realizing that he was blind.
She told them that the building was one of very few that was barely untouched by "The Incident". Nelson argued with her by pointing out that the only view they had was of cranes and scaffolding and that it felt like they were getting pre-incident prices. Harris noted that they were a quarter of what they used to be and that Hell's Kitchen was on the rebound and pretty soon prices for such an office would increase dramatically. Murdock agreed with her and said that they would take it.[1]
Relationships
Allies
References