Marvel's The Punisher - Teaser Trailer
"All the things that I done... Memories. They never hurt me. But the past is more than memories... It's the devil you sold your soul to. He's coming. He's coming to collect."
Marvel's The Punisher, [1] or simply The Punisher, is an upcoming television series that will star the vigilante character of the same name. It will be produced by Marvel Television and will air on Netflix. It will be set in the Marvel Cinematic Universe.
On April 29, 2016, the series was officially ordered by Netflix.[1] The first season will premiere in 2017.
Synopsis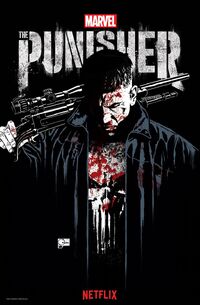 After exacting revenge on those responsible for the death of his wife and children, Frank Castle uncovers a conspiracy that runs far deeper than New York's criminal underworld. Now known throughout the city as The Punisher, he must discover the truth about injustices that affect more than his family alone.[4]
Plot
To be added
Cast
Starring Cast
Recurring Cast
Behind the Scenes
Videos
Trailers
See Also
References
External Links