Marvel's The Punisher: Official Trailer
"All the things that I done... Memories. They never hurt me. But the past is more than memories... It's the devil you sold your soul to. He's coming. He's coming to collect."
Marvel's The Punisher, or simply The Punisher, is a television series based on the Marvel Comics vigilante character of the same name. It is produced by Marvel Television and streamed on Netflix.
The first season premiered on November 17, 2017.
The second season was announced on December 12, 2017.[1]
Season Synopses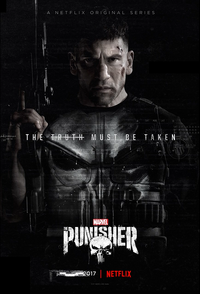 After exacting revenge on those responsible for the death of his wife and children, Frank Castle uncovers a conspiracy that runs far deeper than New York's criminal underworld. Now known throughout the city as The Punisher, he must discover the truth about injustices that affect more than his family alone.[2]
To be added
Cast
Starring Cast
Recurring Cast
Behind the Scenes
Order and Development
In January 2016, it was reported that Netflix was in very early development on a Daredevil spinoff series, featuring Jon Bernthal as the Punisher.[5] The next month, Marvel Television's Executive Vice President Jeph Loeb said "I think that's something that people are speculating on, as opposed to something that's actually happening" about a potential The Punisher spinoff.[6] On April 29, 2016, Netflix officially announced and ordered the series.[7]
The showrunner for the series was Steven Lightfoot, a producer on NBC's Hannibal. When he was first brought in to Marvel, he did not realise Castle had appeared on Daredevil's second season. In an interview with EW, Lightfoot noted:
When I came in to meet about this show, I hadn't realized that they had done that Daredevil season 2, so Marvel showed me that show. The real starting point, for me, was watching the approach they had taken and what Jon had done with the part. And seeing his performance was when I got really excited about the prospect of doing the show, because I felt like it had a real mix of ferocity — he was genuinely scary — and this real humanity, where he moved me at the same time. I felt like there was a story about grief and how men build a very extreme version of that, and exploring that was what interested me.[8]
Production
On October 3, 2016, the series started filming in New York City.[9] The working title of the series was "Crime".[10]
Promotion
Following the 2017 Las Vegas Strip shooting, the promotional panels of the first season of The Punisher at New York Comic Con[11] and at Cirque d'hiver[12] were cancelled. Additionally, the release date of the season was post-poned.[13]
Videos
Trailers
See Also
References
External Links