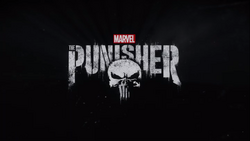 A list of trivia related to The Punisher.
References to the Marvel Cinematic Universe
Netflix Series
References to Marvel Comics
Characters from the comics adapted for the series are Micro, Billy Russo, William Rawlins, Stan Ori and Curtis Hoyle.
The web address for Ahmad Zubair's interrogation video is MP19752.net. The address is a reference to Marvel Preview Issue 2 (1975).
The van that is used by Micro and the Punisher is based on the Punisher's battlevan from the comics.
William Rawlins' alias, Agent Orange, has been used by multiple characters in the comics.
Other Trivia
Like the other Marvel Netflix series, there is a reference to Star Wars. Lewis Wilson had a model of a Naboo Starfighter in his bedroom.
This is the first Marvel Netflix series to not feature Claire Temple.