The Translator was Qasim Zaghlul's translator and interpreter during Quinn Worldwide shareholder meeting in Malta.
Biography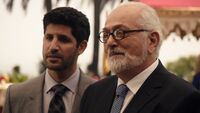 When Skye infiltrated Ian Quinn's meeting, Qasim Zaghlul rudely approached her. This behavior made his personal translator quickly apologize for his lack of manners.[1]
Relationships
Allies
References
Ad blocker interference detected!
Wikia is a free-to-use site that makes money from advertising. We have a modified experience for viewers using ad blockers

Wikia is not accessible if you've made further modifications. Remove the custom ad blocker rule(s) and the page will load as expected.