Seeing that the events of the first half of AoS2 it's disputed I make a timeline when the episode takes place.
2014
September
5th
11th
Phil Coulson, Melinda May and Skye record a video for Jemma Simmons' birthday, with Coulson encouraging her to make a wish, while they blow out the candle for her. Leo Fitz, still believing that Simmons left to see her parents, records a more personal message, asking her to say hi to her parents for him, and promising her that they will see each other soon.[2]
October
9th
23rd
24th
Creel attacks Glenn Talbot, but he is saved by Skye and May. As Creel is detained by the United States Armed Forces, May and Skye kidnap Talbot and take him to the Playground.[1]
The two newly promoted men talk, but Coulson is forced to trick Talbot into revealing information, before Coulson puts him to sleep with an I.C.E.R..[1]
Creel uses his powers to escape detainment.[1]
25th
Raina contacts Coulson and tells him about the tracking device.[4]
Chase of Carl Creel: Coulson's men tracks Creel and go there to catch him. Hunter incapacitated May, Triplett and Skye with an I.C.E.R.. When Creel goes to meet Sunil Bakshi in a public park to deliver the Obelisk, he is fired upon by Hunter. During the commotion the gunfire caused, Raina takes the briefcase containing the artifact. As Hunter and Creel battle, Coulson uses the Overkill Device to destabilize and neutralize the Absorbing Man.[4]
26th
December
7th
8th
9th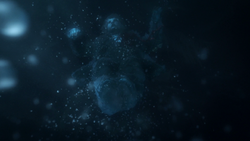 23rd
2015
January
23rd
February
10th
14th
19th
Ambush at the Hotel La Ona: Five days after the fire in the church, thanks to Skye , Coulson and Melinda May manage to infiltrate the event to recover the painting with the aliens drawings. The HYDRA agents, Sunil Bakshi and Agent 33 disguised as Melinda May, attack Coulson. HYDRA is also looking at the painting. May helps Coulson, Mei electrocutes the agent 33 face, generating that the mask that she use to change face breaks down, causing also that can not be removed. Coulson leaves unconscious Bakshi. Coulson and May steal the painting, which was in possession of HYDRA.[8]
Coulson tells May that if those urges to draw the extraterrestrial signs, words of Creation, make him crazy as John Garrett, she needs to kill him.[8]
Massacre at the Wedding Party: HYDRA attack the members of the United States Armed Forces by the use of a chemical weapon based upon the Obelisk in the champagne offered to the wedding guests. Everyone in the wedding get killed.[9]
20th
21st
Going to HYDRA Laboratories, Raina sees Simmons and photograps her sending her message to S.H.I.E.L.D. Raina then calls Coulson for a meeting.[9]
At a restaurant, Coulson meets with Raina to find out what she wants, with Hunter, Skye, and Melinda May listening. She tells Coulson that she wants to take Skye to her father or she will do a file transfer that will blow Simmons' cover. Coulson refuses her offer and the file is sent. Raina is stunned. Hunter tags her and allows her to leave after she reveals the Doctor's location.Skye goes solo to her father's hideout and finds his picture before Coulson and the others catch her. When she sees the bodies of two of his patients on the floor, Skye calls him a monster. This upsets him as he watched with cameras from his car nearby.[9]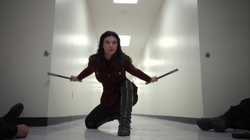 22nd
Skye's father takes the Diviner, as it is called in its native language, to Daniel Whitehall and offers to teach him not only how to use its power but how to survive it. When his motives were questioned, The Doctor said that they had a common enemy: Phil Coulson.[9]
March
27th
Attack on the United Nations: The United Nations Headquarters is attacked by Marcus Scarlotti and his mercenaries in the name of S.H.I.E.L.D. while Glenn Talbot gives a speech there. Six, including Adamo Dioli, are killed in the attack. With his arm in a sling, Talbot goes to see Senator Christian Ward, who is upset that Talbot allowed S.H.I.E.L.D. to attack him as he brags about bringing down the organization. Talbot doubts that S.H.I.E.L.D. attacked the UN, but he assures that no one knows about Christian's connection to Grant.[10]
In the Playground, Melinda May announces the United Nations' attack. Director Phil Coulson gathers information on the attack and sends May, Bobbi Morse and Lance Hunter to investigate a lead in Okinawa, Japan. Coulson calls European agent Noelle Walters to have her team on standby, while Simmons is told to access the hard drive she stole from HYDRA Laboratories.[10]
Infiltration into Toshiro Mori's Estate: During her conversation with Toshiro Mori, the one who named the Splinter Bomb, Morse learns that Marcus Scarlotti seeks Julien Beckers, a Belgium politician. Lance Hunter and Melinda May save Morse when her cover is blown. Coulson instructs Walters' team to find and protect Beckers.[10]
28th
29th
Sebastian Derik asks his tattoo artist to give him another tattoo. As the artist disapproves and Derik disrobes, his body is covered with the Words of Creation. The pain of getting a tattoo helps him to remember.[10]
References