This is a timeline from the events of Jessica Jones (TV series), I use the events seeing in the third season of Agents of S.H.I.E.L.D. for make the timeline looks more "completed".
2015
October
10th
Jones is hired by a former lover of Turk Barrett to locate and force him to give money in order to care the child he had with her.[1]
11th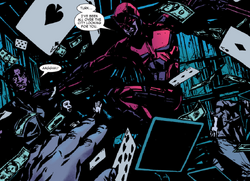 In the night, Barrett is attempting to get money from an old client, but he is immediately ambushed by Daredevil. The brawl results in Barrett being taken to the hospital.[1]
Jones follows the woman through New York City and finds her having sex with another man.[2]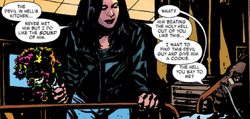 12th
13th
14th
15th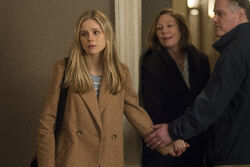 The Shlottmans arrive to get their daughter and return to Nebraska. Jones decides that she is done being a detective. Following Kilgrave's orders, Hope reveals a gun and kills her parents in the elevator. When the elevator opens on the ground floor, Jones sees the bodies; Hope turns to her and tells her to smile. Hope regains her senses and screams as she sees the carnage she committed, a disturbed Jones leaves the building, but she decides that she will not flee from Kilgrave; it is time to fight.[2]
Jessica Jones is interviewed by Detective Oscar Clemons for the murders of Bob and Barbara Shlottman. In the interrogation, he reveals that he procured from the Alias Investigations Office the photos that Jones took of Luke Cage, but Jones demands the return of her property and tells that Cage has nothing to do with the double homicide.[4]
16th
17th
Impersonating a nurse, Jones goes to Metro-General Hospital and learns that Jack Denton was the ambulance driver that took Kilgrave to the hospital after the accident.[4]
Back at their cave hideout, Simmons breaks down as she becomes desperate yet again, thinking she won't get home. However, Will Daniels assures her that she restored his faith when she turned up, and that she should keep that faith that they can survive and eventually get back. The two give in to their feelings for each other and start kissing.[3]
18th
Visiting Denton's residence, Jones learns that he donated both kidneys to Kilgrave and is now on dialysis with a machine given by an anonymous patron.[4]
Skirmish at Luke's: Gina visits Jones and tells her that her husband, Andre, has decided to get his rugby teammates to teach Cage a lesson. At Luke's, Jones tries to help Cage fight against the Andre's friends but Cage handles things himself. Jones realizes about Cage's powers and Cage realizes about Jessica's too.[4]
19th
Jones traces the Denton's machine to doctor David Kurata, he tells her about the operation he performed on Denton and Kilgrave. Jones discovers that local anesthesia is Kilgrave's weakness. Kurata decides that he will tell all he knows about Kilgrave to the police and Hogarth.[4]
Jeri Hogarth takes Hope Shlottman's case. Speaking with Shlottman, Hogarth learns that Jones was a victim of Kilgrave.[4]
20th
Jones goes to see Jeri Hogarth demanding the defence Shlottman's reputation. Hogarth tells her that she will not sacrifice her own reputation by saying that mind control is real; she advises Jones to find other victims of Kilgrave to back Shlottman defense, including herself.[5]
After researching anesthesia and hospitals, Jones goes to the clinic where Wendy Ross-Hogarth works and asks her for anesthesia, hoping to use the conflict between her and her wife as leverage.[5]
Jones discovers that Trish Walker has been training herself.[5]
21st
In her radio program, Walker sets up a radio interview for Shlottman so all can hear her experiences with Kilgrave. During the interview, Jeri Hogarth speaks as if Shlottman is insane, but Walker defends the girl, citing that in a world that has the Avengers, the idea that a man with telepathy is not that far-fetched. Walker begins to insult Kilgrave, much to Jones' dismay and fear. When Walker takes callers' questions,Kilgrave, himself, calls questioning Walker's decision to taunt such a powerful man. Jones and Walker, quickly, exit the radio station to go to Walker's apartment.[5]
Jones uses Malcolm Ducasse as a distraction to infiltrate a hospital to steal some vials of the drug.[5]
Kilgrave finds Will Simpson, enthralls him and sends him to kill Trish Walker for insulting him.[5]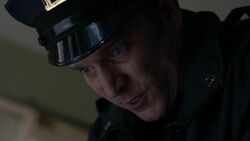 Attack on Trish Walker: Simpson arrives at Walker's apartment and fights her. She tries to beating up him, but she fails. Simpson starts strangling her. Fortunately, Jessica Jones arrives and proceeds to temporarily subdue Simpson by throwing him against the wall knocking him out temporarily. To stop him from attacking Trish and seeing an opportunity to find Kilgrave, Jones injects Walker with a sedative knocking her unconscious. When Simpson awakes and sees Trish's corpse, he is convinced that he has accomplished his mission and proceeds to report back to Kilgrave with Jessica following him.[5]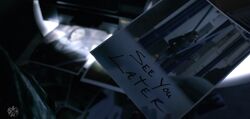 In his new resident, Kilgrave orders Simpson to commit suicide by jumping from a balcony; Jones stops him but is discovered by Kilgrave. After knocking Simpson unconscious to stop his repeated attempts at suicide, Jones pursues Kilgrave but as him runs away different residents in Kilgrave's conquered apartment start to defend their master. Kilgrave escapes. Jones discovers a room covered wall to wall with pictures of her, she sees a picture that says that he will see her later.[5]
Jones returns to Simpson and jumps from the balcony with him to simulate suicide and break his hypnotic trance.[5]
22nd
Jones is hired by Audrey Eastman to investigate if her husband, Carlo, has an affair when he goes to work on friday night.[6]
Will Simpson goes to the apartment of Trish Walker trying to find her corpse. Scared, Walker calls Jones for help. Jones realizes that Simpson is not under Kilgrave's control and opens the door. For his surprise, Simpson finds Walker alive. Jones explains Simpson about the Kilgrave's situation, he insists on helping find Kilgrave.[6]
Following Jones' advice, Walker goes on air at WNEX Station and makes a publicly apologize to Kilgrave for insulting him, in hopes that he will stop from sending people to attack her again.[6]
23rd
24th
Simpson visits Trish Walker and asks for forgiven. The both talk and a friendship develops.[6]
Following the Audrey Eastman's case, Jones follows Carlo Eastman to a rendezvous with his alleged girlfriend. The girlfriend turns out to be Audrey herself; she wants to kill Jones because she is a gifted person. Audrey explains that "gifted people" caused the death of her mother by allowing "the incident" to happen. Jones is shot in her arm, she has a tantrum because she lost her own parents in an accident, but she doesn't blame anyone else for what happened. She tells the Eastmans that she has 99 friends who are gifted and will hurt her if they do not leave New York City. The Eastmans flee away.[6]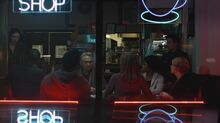 25th
In the morning, comparing the footage and the Donald's testimony, Jones finds the photographer: Malcolm Ducasse.[6]
29th
30th
31st
After one day without receiving messages, Jones goes to Trish Walker's Apartment and discovers that Trish Walker and Will Simpson have start a relationship.[7]
The three make a plan where Simpson will be the shooter of the anesthesia dart to leave Kilgrave unconscious, Jones will use her strength and speed to takes the body to the van, and Walker will be the get-away driver to takes Kilgrave to a hermetically sealed room.[7]
November
1st
2nd
The three finds Kilgrave and starts the plan to capture him. Kilgrave sees Will Simpson but, before he can run away, is distracted by Jessica Jones. Simpson uses the dart with the anesthesia to leave him unconscious. However, no one knew that Kilgrave had paid bodyguards for protection. The bodyguars chase the trio and free their boss. Simpson catches one of Kilgrave's bodyguards and tortures him. He reveals that Kilgrave paid for bodyguards to protect him after a previous attack, but he doesn't knows where is living Kilgrave.[7]
Jones goes to Malcolm Ducasse's Apartment, Ducasse reveals that he betrayed Jones for the drugs that Kilgrave constantly provided him, not because he was under his control. She gives him the drugs that Kilgrave would have provided him and asks him to take a choice, starts to help her or not.[7]
3rd
6th
7th
8th
9th
10th
Kilgrave declares his love for Jones and wants her to find the present he left her in her apartment. He has the video of his power usage erased, removes the head, and has the police released from his trance, believing that everything was a big joke.[9]
Jones returns home to find the present: a lost journal of hers from her childhood from before her parents died. Jones also finds her old house's address and understands that Kilgrave wants her to go there.[9]
11th
Will Simpson plants a bomb in the basement of the Jones Residence.[10]
Simpson, who was successful in finding Kilgrave and has been watching him for days without informing Walker, watches as Jones voluntarily goes to her birth parents' home and is greeted by Kilgrave.[9]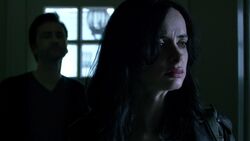 Kilgrave promises Jessica Jones that he will not enthrall her because he wants her to have free when she falls in love with him and also promises that he will not touch her. Kilgrave gives Jones a tour of her old house and how he has reproduced every possible detail. He also introduces her to the wait staff and bodyguard, whom he is paying to work him.[10]
After dinner, Jones finds Simpson who wants to free her before he detonates the bomb rigged in the basement. Jessica tells him to flee and trust her to handle Kilgrave whom she needs alive to free Hope Shlottman; Jones tells Kilgrave about the bomb and has his bodyguard dispose of it.[10]
Trish Walker finds Simpson, he is with some militaristic friends; he lies that Kilgrave has left town and they, as ordinary Humans, are not equipped to handle that situation. Angry, Walker leaves.[10]
12th
13th
Trish Walker finds Will Simpson and takes him to Metro-General Hospital where he demands to see Doctor Kozlov, a specialist who gives Simpson pills that increase his healing capabilities.[11]
Simpson and Kozlov discuss Simpson's past and how using an incorrect regimen of the pills had catastrophic results.[11]
Jessica Jones takes Kilgrave to the hermetically-sealed room in the warehouse and covers its floor with water so that a live wire can incapacitate the telepath, when needed. Jones plans to get a videotaped confession from Kilgrave but Jeri Hogarth, who is having difficulty with Wendy Ross-Hogarth who is now demanding 90%, tells her that a confession under duress is inadmissible.[11]
Jones tries to convince Oscar Clemons to believe in the power of telepathy, but he does not wish to soil his reputation or the reputation of anyone else in the 15th Precinct Police Station.[11]
To make that him makes a confession, Jones and Walker decide to take a different angle: get Kilgrave's parents to glean a confession.
Jones learns that Kilgrave's parents are Albert and Louise Thompson.[11]
14th
Jones goes to a meeting with the Kilgrave Victim Support Group and realizes that Louise Thompson is a member of it. Louis runs away and Jones pursues her. The both arrive to a hotel room, Jones confronts the Kilgrave's parents for leaving their son. The both tells her about Kilgrave's brain malfunction and how it required a great deal of treatment. But the experiments gave Kilgrave the power to control people's will and so he put his parents under his control, they also explains that when Kilgrave forces Louise to burn her face with an iron, Albert and she escapes and left him alone. Jones talks them into confronting their son.[11]
15th
16th
17th
Will Simpson apologise to Walker for his inappropriate behavior, blaming Doctor Kozlov and the pills he took for his rapid recovery. He also asks the location of Jones, saying that he would like to apologize to her personally; Walker does not give her location.[14]
Jones goes to another morgue and discovers the Oscar Clemons body. Jones also discovers that the Decommissioned CDC Facility was burnt down.[14]
Kozlov sends two men to catch Simpson, but he takes a red pills and kills both in front of Walker. Simpson drags the bodies into Walker's apartment and lock her in the safe room.[14]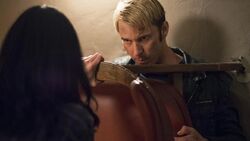 Attack on Jessica Jones: Simpson calls Jones, telling her that he wants to kill Kilgrave and will meet her at the Alias Investigations Office to reveal where he is. When Simpson arrives at Jones' apartment, Jones invites Simpson inside, but when she asks about Walker, Simpson lies. Jones tells Simpson about the death of Clemons; when Simpson is not surprised, she surmises the truth that Simpson killed him. Before Simpson can kill her, Jones begins a battle with him. Simpson justifies his attempt to kill Jones by saying that she is protecting Kilgrave, not trying to eliminate him. Walker arrives and uses a fire extinguisher against her ex-boyfriend. Walker takes the Combat Enhancers she stole from Simpson and begins a fight. Simpson warns Walker that without the blue pills he has to counter the high of the red pills, she will die, but Walker continues her assault. Jones helps and destroys her refrigerator, knocking Simpson unconscious. The pills have an adverse effect on Walker and she cannot breathe. Jones gives her CPR until an ambulance arrives. Walker is saved by an EMT who counters the stimulant in her. Kozlov arrives to Jones' destroyed apartment and retrieves Simpson.[14]
Kilgrave texts Jones and tells her that he has met Luke Cage and, if she hurries, she can save him. When Jones arrives at Luke's, a massive explosion occurs; Jones, though, is reunited with the man she loves.[14]
18th
Searching for Kilgrave, Jones and Cage go to Thompson's hotel room which leads them to ZALK and the discovery of Kilgrave's plot.
Cage gives Jones a moving, heart-felt apology, forgiving her for the death of Connors and how he had insulted her.[13]
Kilgrave though sends a surrogate to Zalk, who Jones and Cage follow, but Kilgrave has him commit suicide in Central Park before Jones can interrogate him.[13]
Trish Walker starts investigating IGH, the group who gave Simpson the pills, is practically non-existent, having no address or website, but Kozlov sent operatives to remove the body of McManus and his partner from her apartment. [13]
Kilgrave begins working with his father to increase his powers.[13]
Trish gets a visit from Dorothy Walker, her mother; they argue about Dorothy's parenting skills and Trish asks her to leave. However, after Trish is released, Dorothy brings Jones' medical bills from the car accident years ago; IGH has paid them. Trish wonders if IGH knew about Jones' abilities, or possibly created them.[13]
When Jones and Cage return to Jessica Jones' Apartment Building, Walker is present, but decides against giving Jones the IGH folder, because there is too much occurring already.[13]
Duel of Delaney Hall: Jones and Cage go to Delany Hall trying to find and kill Kilgrave. When they arrived, Kilgrave reveals Jones that Cage stills under his control and orders him to kill Jones. The both have a fight and Jones uses a gun to leave unconscious Cage. Kilgrave escapes.[13]
19th
Skirmish at the Hudson Ferry Terminal: Jones meets Trish Walker and the both go to the Hudson Ferry Terminal where Kilgrave tries to use his powers to controls her. Seeing that he can't, Kilgrave orders some police officers to shoot down Jones. As Kilgrave makes his way to the yacht, he uses a group of innocent people to block her path. Kilgrave orders the people to kill each other, forcing Jones and Walker to try to protect them. Kilgrave roars with all this might, ordering everyone to stop, which they did, including Jones. Kilgrave briefly believed that Jones was faking but she claims that she wants him to stop the people hurting each other. To mock Jones, Kilgrave orders the person she loves, Walker, to come over to him and claims that he has chosen the wrong sister to love, promising he would rape her continually for the rest of her life and make her his slave while she died inside. Kilgrave promises that if either of them ever saw Jones again, he would make Walker cut her own throat. He then forced Walker to kiss him passionately. Seeing that she has still not move from her spot, Kilgrave becomes convinced that his powers can control Jessica Jones again. Delighted, Kilgrave approaches her and promises Jones that after a while she would love him like he loves her and orders her to smile, she obeys instantly. Overcome with joy, Kilgrave orders her to tell him she loves him, Jones says the words. Jones then grabbs Kilgrave's face and snapps his neck, killing him instantly and dropping his body to the ground.[15]
Jones is taken to prison.[15]
20th
Cage awakes from his short coma and leaves Temple and the building.[15]
Thanks to Jeri Hogarth, Jones is free from prison. She reunites with Walker.[15]
In her apartment, Jessica Jones reunites with Malcolm Ducasse and decides to use her powers to help people.[15]
27th
28th
29th
30th
December
24th
References