After a long discussion with TomasDerksen and BEJT. We are agree that the events of DD1 and JJ1 has to be move it but the events still happening in 2015. I will use some events from AoS2. For my reasoning please look in here: http://marvelcinematicuniverse.wikia.com/wiki/Thread:132259 .
2015
January
6th
20th
21st
22nd
James Wesley reveals to Officer Clyde Farnum that his associates can kill his daughter at any time, as a blackmail threat. He orders Farnum to kill Page.[2]
Late at night, Farnum tries to choke Page to death, but she fights back and scratches his right eye. She then screams for help.[2]
23rd
24th
25th
26th
Assassination of Mister Prohaszka: Healy goes to Whitestone Lanes bowling alley to murder Prohaszka. John Healy quickly overthrows the mobster's body guards. He then tries to shoot Prohaszka, but his gun jams, forcing him to find another way to kill him. Healy eventually kills Prohaszka by crushing his skull with a bowling ball. The police arrive shortly after and arrest Healy.[4]
27th
28th
29th
February
1st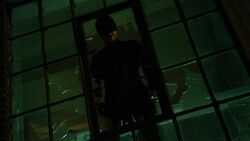 2nd
3rd
4th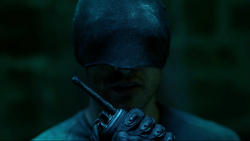 Assassination of Vladimir Ranskahov: Matt Murdock takes Vladimir Ranskahov to an abandoned warehouse to avoid being discovered by the police. He uses a flare to cauterize Ranskahov's open wound, making Ranskahov pass out. Soon Officer Sullivan arrives to the warehouse and calls for backup after Murdock attacks him. Police arrive outside, calling the circumstance a hostage situation. Soon Ranskahov awakens and attacks Murdock. To protect himself, Murdock tackles Ranskahov, making them fall two stories. Ranskahov's heart stops, forcing Murdock to revive him. Through Sullivan's two-way radio, Fisk contacts Murdock and says that he will blame the entire night's occurrences on him. Outside, a sniper shoots multiple officers, including Christian Blake. Murdock soon finds an opening into the sewers that connects to a series of access tunnels, which he uses for him and Ranskahov to escape. Just after they escape, four officers enter the building. Working for Fisk, they kill Sullivan to blame it on the Man in the Mask. Just before Murdock and Ranskahov go into the access tunnels, they are attacked by two of the officers. After they are defeated by Murdock, Ranskahov chooses to use their weapons to keep five other men from getting to Murdock as he leaves. Before he leaves, Ranskahov tells Murdock that Leland Owlsley controls the money of Fisk's cartel. When the men arrive, they kill Ranskahov. Murdock escapes.[8]
5th
6th
7th
8th
9th
10th
11th
12th
13th
14th
A fire occurs in the church of Santa Maria de las Flores in Miami, Florida. The entire church burns down, except for a painting which is over 500 years old. This painting has the Words of Creation, alien signs Phil Coulson has been drawing, etched into its back. The priest of the Church decides to organize an event so as to raise funds and rebuild the Church.[14]
15th
19th
20th
21st
Going to HYDRA Laboratories, Raina sees Simmons sending a message to S.H.I.E.L.D., to use as blackmail. Raina then calls Coulson for a meeting.[16]
At a restaurant, Coulson meets with Raina to find out what she wants, with Hunter, Skye, and Melinda May listening. She tells Coulson that she wants to take Skye to her father, or else she will perform a file transfer of her photograph that will blow Simmons' cover at HYDRA. Coulson refuses her offer and the file is sent. Raina is stunned. Hunter tags her and allows her to leave after she reveals the Doctor's location. Skye goes solo to her father's hideout and finds his picture before Coulson and the others can catch her. When she sees the bodies of two of his patients on the floor, Skye calls him a monster. This upsets him as he watches on with cameras from his car nearby.[16]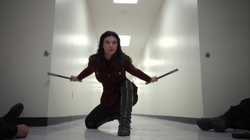 Escape from HYDRA Laboratories: With the file that Raina sent, all eyes are on Jemma Simmons. Sunil Bakshi sends a security team to retrieve her. When Bobbi Morse comes with her team, Simmons is trapped. Morse then pulls out her battle staves and fights the agents, protecting Simmons and revealing that she is an undercover S.H.I.E.L.D. agent. The two are pursued to the roof where they jump onto the awaiting cloaked Quinjet, piloted by Antoine Triplett, and make their escape.[16]
Coulson welcomes Morse, Simmons, and Triplett when they arrive at the Playground. Leo Fitz is hesitant in greeting Simmons, and Alphonso Mackenzie is happy to see Morse. When Hunter sees Morse, he is upset that Coulson has him working with his ex-wife. Meanwhile, Skye wants full disclosure from Coulson about the writings, and he decides to give it. He tells her about his carvings, and she reveals to him that she believes the Words of Creation are a map.[16]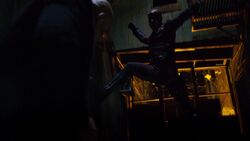 22nd
March
8th
12th
13th
14th
Jones is hired by a man who thinks that her wife is cheating him.[18]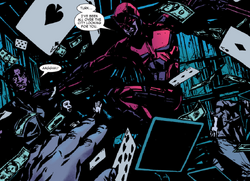 In the night, Barrett is attempting to get money from an old client, but he is immediately ambushed by Daredevil. The brawl results in Barrett being taken to the hospital.[17]
Jones follows the woman through New York City and finds her having sex with another man.[18]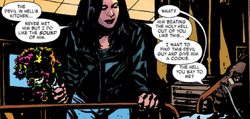 15th
Jones shows her client the photos at her office, he begins to get angry that his own wife is cheating on him with his brother. When he begins to get violently aggressive, Jones tosses him through the door, breaking the window, still demanding her payment.[18]
Jones finds Turk Barrett. Once she has known what has happened, Jones takes Barrett's wallet to give to her client and disconnects his IV before leaving.[17]
16th
At Hogarth, Chao and Benowitz Office, Jones asks Jeri Hogarth for a new assignment. Hogarth sends her to give a subpoena to Gregory Spheeris, a strip-club owner who stays surrounded by bodyguards.[18]
Back at her office, Jones makes a call to Spheeris' office. While faking to be an old friend of Spheeris' secretary, Jones receives the information needed to find Spheeris.[18]
17th
18th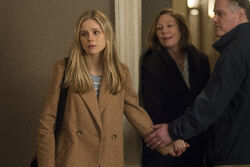 The Shlottmans arrive to get their daughter and return to Nebraska. Jones decides that she is done being a detective. Suddenly, following Kilgrave's orders, Hope reveals a gun and kills her parents in the elevator. When the elevator opens on the ground floor, Jones sees the bodies; Shlottman then turns to her and tells her to smile. She then regains her senses and screams as she sees the carnage she committed, and a disturbed Jones leaves the building in shock, but then decides that she will not flee from Kilgrave; it is time to fight.[18]
Jessica Jones is interviewed by Detective Oscar Clemons for the murders of Bob and Barbara Shlottman. In the interrogation, he reveals that he procured from the Alias Investigations Office the photos that Jones took of Luke Cage, but Jones demands the return of her property and tells him that Cage has nothing to do with the double homicide.[19]
19th
20th
21st
Visiting Denton's residence, Jones learns that he donated both kidneys to Kilgrave, and is now on dialysis with a machine given by an anonymous patron.[19]
Skirmish at Luke's: Gina visits Jones and tells her that her husband, Andre, has decided to get his rugby teammates to go and teach Cage a lesson for sleeping with his wife. Jones then goes to Luke's to try to help Cage fight against the Andre's friends, but Cage handles things himself with surprising resilience. Jones realizes about Cage's powers and Cage realizes about Jessica's too.[19]
22nd
Jones traces Denton's machine to doctor David Kurata, who tells her about the operation he performed on Denton and Kilgrave. From this, she discovers that local anesthesia is Kilgrave's weakness, turning off his powers temporarily. Kurata decides that he will tell all he knows about Kilgrave to the police and Hogarth.[19]
Jeri Hogarth takes Hope Shlottman's case. Speaking with Shlottman, Hogarth learns that Jones was a fellow victim of Kilgrave.[19]
23rd
Jones goes to see Jeri Hogarth, demanding her to defend Shlottman's reputation. Hogarth tells her that she will not sacrifice her own reputation by saying that mind control is real; she advises Jones to find other victims of Kilgrave to back Shlottman defense, including herself.[20]
After researching anesthesia and hospitals, Jones goes to the clinic where Wendy Ross-Hogarth works and asks her for some anesthesia, hoping to use the conflict between her and her wife as leverage.[20]
Jones discovers that Trish Walker has been training herself in combat.[20]
24th
In her radio program, Walker sets up a radio interview for Shlottman so that all the listeners can hear her experiences with Kilgrave. During the interview, Jeri Hogarth speaks as if Shlottman is insane, but Walker defends the girl, citing that in a world that has the Avengers, the idea of a man with telepathy is not that far-fetched. Walker begins to insult Kilgrave, much to Jones' dismay and fear. When Walker takes callers' questions, Kilgrave himself calls in, questioning Walker's decision to taunt such a powerful man. Jones and Walker quickly, exit the radio station to go to Walker's apartment.[20]
Jones uses Malcolm Ducasse as a distraction to infiltrate a hospital and steal some vials of anesthesia.[20]
Kilgrave finds Will Simpson, enthralls him and sends him to kill Trish Walker for insulting him.[20]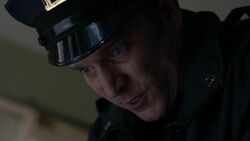 Attack on Trish Walker: Simpson arrives at Walker's apartment and fights her. She tries to take him down but fails, and Simpson starts to strangle her. Fortunately, Jessica Jones arrives and proceeds to temporarily subdue Simpson by throwing him against the wall, knocking him out. To stop him from attacking Trish, and seeing an opportunity to find Kilgrave, Jones injects Walker with a sedative, knocking her unconscious. When Simpson awakes and sees Trish's inanimate body, he is convinced that he has accomplished his mission to kill her and proceeds to report back to Kilgrave, with Jones following him.[20]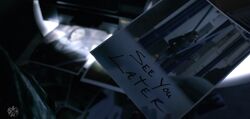 In his new residence, Kilgrave orders Simpson to commit suicide by jumping from a balcony; Jones stops him but is discovered by Kilgrave. After knocking Simpson unconscious again so as to stop his repeated attempts at suicide, Jones pursues Kilgrave, but as he runs away, different residents in Kilgrave's apartment start to defend their master. Kilgrave escapes. Jones discovers a room covered wall-to-wall with pictures of her, and she sees a picture that says that he will see her later.[20]
Jones returns to Simpson and jumps from the balcony with him to simulate suicide and break his hypnotic trance.[20]
25th
Jones is hired by Audrey Eastman to investigate if her husband, Carlo, is having an affair, by following him when he goes to work on Friday night.[21]
Will Simpson goes to the apartment of Trish Walker trying to find her corpse. Scared, Walker calls Jones for help. Jones realizes that Simpson is not under Kilgrave's control and opens the door. To his surprise, Simpson finds Walker alive. Jones explains to Simpson about the Kilgrave situation, and he insists on helping find Kilgrave.[21]
Following Jones' advice, Walker goes on air at WNEX Station and makes a publicly apology to Kilgrave for insulting him, in hopes that he will stop sending people to attack her again.[21]
26th
The Kilgrave Victim Support Group is founded by Jessica Jones and Jeri Hogarth, including all those who believe they have been under his influence. The group is created to try to build Shlottman's defence.[21]
Jones asks Simpson for police surveillance footage of certain places to find Jones' stalker, but the process is long.[21]
27th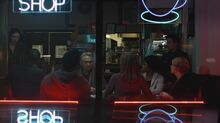 28th
29th
Sebastian Derik asks his tattoo artist to give him another tattoo. Derik disrobes, revealing that his body is covered with the Words of Creation. He states that the pain of getting a tattoo helps him to remember.[22]
April
1st
2nd
Military professionals along with renowned scientists speak about future of modern military on WHiH.[3]
Chase of Grant Ward: Coulson sends a team to catch Ward in Atlanta, but he escapes.[24]
Skye, who is helping Coulson to translate the Words of Creation, shows Phil Coulson the crime scene photos of Robbins' body, which has been carved disturbingly with the alien symbols.[24]
Antoine Grier disappears without telling his sister Serena where he is going.[25]
Whilst investigating Janice Robbins (AKA Agent Rebecca Stevens, former agent of S.H.I.E.L.D), the team find many images of the symbols. Jemma Simmons performs an autopsy on the deceased woman. Both the victim and the killer had/have GH.325 in their blood. It eventually turned them into psychopaths.[24]
Coulson believes the only way to get the answers they seek is to put him in the memory machine to the point where the memories that were taken from him return, despite the pain it will cause him.[24]
After being placed in the memory machine, Coulson sees himself in the interrogation room at the Guest House. He can see a few agents who were used as test subjects for the GH.325 formula, all seeming to be in decent shape at first. Then everything changes. They all go start to go mad as he interrogates them, save one, Derik, who just wants to know when he can get out of there. However, when Coulson pins him down and rolls up his sleeve, he sees that Derik is even more crazy than the others, but trying to pretend he is not. Coulson argues to shut down the rejuvenation program and destroy the host. The only hope at curing the patients is to erase their memories; so reluctantly, that is what they do. Coulson manages to state the names of the patients in his vision to Skye before being pulled out of the machine. They research the people and discovers that Robbins' killer is Sebastian Derik, and he is targeting those who went through Project T.A.H.I.T.I., and the only patient that he has not yet killed is a man named Hank Thompson.[24]
Skye discourages Coulson from getting involved, but he temporarily traps her in Ward's empty cell, telling her that he wants to take care of Derik personally.[24]
Attack on Hank Thompson: Coulson finds Hank Thompson at gunpoint after a warning that his life is in danger, but before he can do anything about it, Sebastian Derik knocks him out from behind. Thompson is bound and gagged in his workshop, and his wife and son are locked in a closet. Coulson is also tied up. Derik lets him know that pain gives him back his memories. It's how he found all the others from Project T.A.H.I.T.I. He wants to know what the alien writings mean, and is willing to do whatever it takes to find out. Hank Thompson escapes from his bindings, and some deep-rooted training helps him assist Coulson in breaking free as well. Thompson rushes his family to safety while Coulson momentarily neutralizes Derik and a difficult struggle ensues. Skye and Alphonso Mackenzie arrive, threatening to shoot Coulson, who has Derik trapped by the neck, believing that he is out of his mind. However, Coulson is not trying to kill him; he is trying to get him to look down at the massive toy train design Hank Thompson had constructed below them. From above, it looks like the alien writing. It looks like a city. Feeling a sense of fulfillment, Derik loses his aggression and is turned over to the authorities.[24]
To get rid of the people following him, Ward tells Sunil Bakshi that he will make a deal with him. However, he is luring Bakshi into a trap, and binds and gags him, then delivers to Melinda May, Bobbi Morse, Antoine Triplett and Lance Hunter, to their surprise.[24]
In the Playground, Coulson tells Hank Thompson that they could need a super spy like him. Thompson refuses the offer, as he is happy being the family man he is now. He thanks Coulson for his second chance and gives him his business card. He has also found his peace. So has Coulson. The compulsion to carve is gone. Now all he has to do is figure out why the alien was so determined to get to that city.[24]
Coulson vows that they will find Ward eventually. In the meantime, they will take advantage of his gift of Bakshi. Coulson addresses his team to assure them that he is not crazy. He has been trying to solve the puzzle of the writing, just like HYDRA. Coulson says their job is to find the mystery city before anyone else.[24]
Ward makes a call to Skye, knowing that she would answer Bakshi's phone. He promises to keep sending "gifts" from time to time, then informs her that he has work to do, and says goodbye.[24]
3rd
After one day without receiving any messages from her, Jones goes to Trish Walker's Apartment and discovers that Trish Walker and Will Simpson have start a relationship.[23]
The three make a plan together to take down Kilgrave. Simpson will shoot the anesthesia dart to leave Kilgrave unconscious, then Jones will use her strength and speed to take the body to a van where Walker will be the get-away driver to take Kilgrave to a hermetically sealed room.[23]
4th
5th
Jones, Simpson and Walker find Kilgrave and initiate the plan to capture him. Kilgrave spots Will Simpson, but before he can run away he is distracted by Jessica Jones. Simpson shoots the anesthesia dart to leave him unconscious. However, no one knew that Kilgrave had bodyguards for protection. The bodyguards chase the trio to the van and free their boss, but Simpson catches one of Kilgrave's bodyguards and tortures him until he reveals that Kilgrave made the bodyguards protect him after a previous attack; but he doesn't knows where Kilgrave is living.[23]
Jones goes to Malcolm Ducasse's Apartment, and Ducasse honestly admits that he had been betraying Jones to be supplied with the drugs he was addicted to by Kilgrave; not really because he was under his control. She gives him the drugs that Kilgrave would have provided him and asks him to make a choice: to get over his addiction and start helping her, or succumb and not help her.[23]
6th
8th
Skye's Father tells Daniel Whitehall that the Diviner has something inside that will be activated when it comes into contact with a temple in a hidden city. Whitehall orders to him and a group of HYDRA agents to discover where that city is.[26]
9th
10th
11th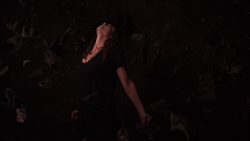 12th
13th
Kilgrave declares his love for Jones and wants her to find the present he left her in her apartment. He has the video of his power usage erased, removes the head, and has the police released from his trance, having them believe that everything was a big joke.[31]
Jones returns home to find the present: a lost journal of hers from her childhood from before her parents died. Jones also finds her old house's address and understands that Kilgrave wants her to go there.[31]
Massacre at Central Park: Frank Castle, Sr. takes his family through Central Park in the evening. They ended up in the middle of a three-way mob fire fight and his family were all killed, and Castle was shot in the head. He survived the shot and was taken to hospital.[30]
14th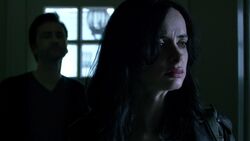 Kilgrave promises Jessica Jones that he will not enthrall her because he wants her to have free when she falls in love with him and also promises that he will not touch her. Kilgrave gives Jones a tour of her old house and how he has reproduced every possible detail. He also introduces her to the wait staff and bodyguard, whom he is paying to work him.[33]
After dinner, Jones finds Simpson who wants to free her before he detonates the bomb rigged in the basement. Jessica tells him to flee and trust her to handle Kilgrave whom she needs alive to free Hope Shlottman; Jones tells Kilgrave about the bomb and has his bodyguard dispose of it.[33]
Trish Walker finds Simpson, he is with some militaristic friends; he lies that Kilgrave has left town and they, as ordinary humans, are not equipped to handle that situation. Angry, Walker leaves.[33]
15th
16th
Trish Walker finds Will Simpson and takes him to Metro-General Hospital where he demands to see Doctor Kozlov, a specialist who gives Simpson pills that increase his healing capabilities.[35]
Simpson and Kozlov discuss Simpson's past and how using an incorrect regimen of the pills had catastrophic results.[35]
Jessica Jones takes Kilgrave to the hermetically-sealed room in the warehouse and covers its floor with water so that a live wire can incapacitate the telepath, when needed. Jones plans to get a videotaped confession from Kilgrave but Jeri Hogarth, who is having difficulty with Wendy Ross-Hogarth who is now demanding 90%, tells her that a confession under duress is inadmissible.[35]
Skye continues her training with Melinda May. Leo Fitz, being the only one who knows about her new powers, is concerned for her, but she assures him she is fine.[34]
In bed together, Lance Hunter tells Bobbi Morse that Phil Coulson has offered him a full-time job at S.H.I.E.L.D.[34]
Finding out about Sif's arrival on Earth, Coulson and May pick her up from a mental hospital. They are informed that she keeps on mentioning that she is looking for "Kava". She does not remember much, but Coulson shows her pictures of them working together the year before, and she trusts him. She takes them to the scene of her fight the day before on a pier. Finding the video of the fight posted on Twitter, Coulson's team investigate the scene.[34]
Lance Hunter tells Alphonso Mackenzie and Leo Fitz about his full-time job offer as they investigate.[34]
Chase of Vin-Tak: Looking for Sif's opponent, Skye and Morse go to a nearby hospital, realizing he might be feeding on nitrogen. They come across him in the supply room, and a fight begins between him and Morse. When he defeats Morse, however, Skye panics and therefore accidentally starts causing the room to shake, and her gun to fall apart in her hand. The man escapes the scene.[34]
Jones tries to convince Oscar Clemons to believe in the power of telepathy, but he does not wish to soil his reputation or the reputation of anyone else in the 15th Precinct Police Station.[35]
To make that him makes a confession, Jones and Walker decide to take a different angle: get Kilgrave's parents to glean a confession.
When Skye gets back, she confides to Fitz that despite thinking that sh could control her powers, she is now realizing that she can't. Fitz promises to try and make an antidote for her, before Hunter interrupts them.[34]
Phil Coulson's team work out that the man is a Kree in disguise, and try to work out where he could have gone. Sif realizes that "Kava" is not a person, but the Kree word for "key", and they work out the link with the Portuguese city of Chaves. Some of the team fly out there and find him trying to open a crate of Diviners. They bring him in with the crate.[34]
Jones learns that Kilgrave's parents are Albert and Louise Thompson.[35]
Back at base, Leo Fitz and Jemma Simmons work on opening the crate. During this, Simmons finds Fitz's blood sample of Skye and questions him about it. He pretends that it is a simulation, but before Simmons can ask any further they manage to open the crate and find that it is empty, revealing that someone else must have taken them before. This drives the blood sample from Simmons' mind.[34]
Battle for Skye: The Kree reveals his name to be Vin-Tak. He explains to them the relationship between the Kree and the special humans they experimented on, and he restores Sif's memory as a sign of good will. However, Skye is getting anxious, realizing that she is one of these special people, When Vin-Tak starts saying that those special humans are monstrosities and need to be destroyed, Skye panics and starts causing another earthquake. As the others realize what is truly going on, Vin-Tak and Sif make a reluctant alliance to capture her, for the supposed safety of everyone else. Melinda May takes Skye downstairs into Grant Ward's old cell to keep her safe, but Skye cannot stop the earthquake. Meanwhile, Bobbi Morse and Leo Fitz work together to take down Vin-Tak, and they manage wipe his memories with his own truncheon. As Sif breaks into the cell, Skye shoots herself with an I.C.E.R. to incapacitate herself and stop the earthquake. Realizing the lengths Skye will go to to keep everyone safe from her, Sif steps down.[34]
17th
18th
19th
20th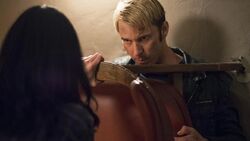 Attack on Jessica Jones: Simpson calls Jones, telling her that he wants to kill Kilgrave and will meet her at the Alias Investigations Office to reveal where he is. When Simpson arrives at Jones' apartment, Jones invites Simpson inside, but when she asks about Walker, Simpson lies. Jones tells Simpson about the death of Clemons; when Simpson is not surprised, she surmises the truth that Simpson killed him. Before Simpson can kill her, Jones begins a battle with him. Simpson justifies his attempt to kill Jones by saying that she is protecting Kilgrave, not trying to eliminate him. Walker arrives and uses a fire extinguisher against her ex-boyfriend. Walker takes the Combat Enhancers she stole from Simpson and begins a fight. Simpson warns Walker that without the blue pills he has to counter the high of the red pills, she will die, but Walker continues her assault. Jones helps and destroys her refrigerator, knocking Simpson unconscious. The pills have an adverse effect on Walker and she cannot breathe. Jones gives her CPR until an ambulance arrives. Walker is saved by an EMT who counters the stimulant in her. Kozlov arrives to Jones' destroyed apartment and retrieves Simpson.[40]
Kilgrave texts Jones and tells her that he has met Luke Cage and, if she hurries, she can save him. When Jones arrives at Luke's, a massive explosion occurs; Jones, though, is reunited with the man she loves.[40]
21st
Searching for Kilgrave, Jones and Cage go to Thompson's hotel room which leads them to ZALK and the discovery of Kilgrave's plot.
Cage gives Jones a moving, heart-felt apology, forgiving her for the death of Connors and how he had insulted her.[39]
Kilgrave though sends a surrogate to Zalk, who Jones and Cage follow, but Kilgrave has him commit suicide in Central Park before Jones can interrogate him.[39]
Trish Walker starts investigating IGH, the group who gave Simpson the pills, is practically non-existent, having no address or website, but Kozlov sent operatives to remove the body of McManus and his partner from her apartment. [39]
Kilgrave begins working with his father to increase his powers.[39]
Trish gets a visit from Dorothy Walker, her mother; they argue about Dorothy's parenting skills and Trish asks her to leave. However, after Trish is released, Dorothy brings Jones' medical bills from the car accident years ago; IGH has paid them. Trish wonders if IGH knew about Jones' abilities, or possibly created them.[39]
When Jones and Cage return to Jessica Jones' Apartment Building, Walker is present, but decides against giving Jones the IGH folder, because there is too much occurring already.[39]
Duel of Delaney Hall: Jones and Cage go to Delany Hall trying to find and kill Kilgrave. When they arrived, Kilgrave reveals Jones that Cage stills under his control and orders him to kill Jones. The both have a fight and Jones uses a gun to leave unconscious Cage. Kilgrave escapes.[39]
22nd
Skirmish at the Hudson Ferry Terminal: Jones meets Trish Walker and the both go to the Hudson Ferry Terminal where Kilgrave tries to use his powers to controls her. Seeing that he can't, Kilgrave orders some police officers to shoot down Jones. As Kilgrave makes his way to the yacht, he uses a group of innocent people to block her path. Kilgrave orders the people to kill each other, forcing Jones and Walker to try to protect them. Kilgrave roars with all this might, ordering everyone to stop, which they did, including Jones. Kilgrave briefly believed that Jones was faking but she claims that she wants him to stop the people hurting each other. To mock Jones, Kilgrave orders the person she loves, Walker, to come over to him and claims that he has chosen the wrong sister to love, promising he would rape her continually for the rest of her life and make her his slave while she died inside. Kilgrave promises that if either of them ever saw Jones again, he would make Walker cut her own throat. He then forced Walker to kiss him passionately. Seeing that she has still not move from her spot, Kilgrave becomes convinced that his powers can control Jessica Jones again. Delighted, Kilgrave approaches her and promises Jones that after a while she would love him like he loves her and orders her to smile, she obeys instantly. Overcome with joy, Kilgrave orders her to tell him she loves him, Jones says the words. Jones then grabbs Kilgrave's face and snapps his neck, killing him instantly and dropping his body to the ground.[42]
Jones is taken to prison.[42]
23rd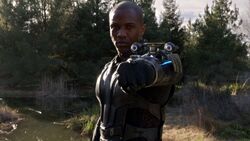 24th
25th
26th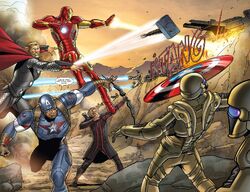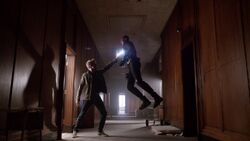 Battle at Calvin Zabo's Building: Arriving at his old office, Zabo, revealing that his original name was Calvin Johnson, shows Skye his grandfather's World War II medical kit. When Campbell turns up, Zabo realizes that the Inhumans are trying to get rid of him, and loses his temper. When HYDRA operatives arrive in the building, he takes out his anger on those men. A battle begins, and Phil Coulson and Lance Hunter arrive with Grant Ward and Kara Palamas as it ensues. Hunter is shot, and Coulson turns the corner just to see Skye and Zabo teleported away to safety by Gordon. Sunil Bakshi, seemingly no longer brainwashed, captures unconscious Lincoln Campbell and Deathlok, and escapes with HYDRA. Palamas helps Hunter up, and Coulson, realizing he needs the help of Gonzales' faction, turns himself over to Bobbi Morse.[45]
Zabo loses his temper at Jiaying for trying to get rid of him, but is cut short when Gordon returns to Afterlife once again, covered in blood, saying he was unable to save Campbell from being taken by HYDRA.[47]
Back on the Iliad that evening, Coulson informs Robert Gonzales of the situation, and they decide to temporarily team up to save Deathlok and Campbell.[47]
27th
Phil Coulson and the former members of his team work together with some of the agents of Robert Gonzales' faction, Grant Ward and Kara Palamas to fly to the Arctic and try to save Deathlok and Lincoln Campbell.[47]
Attack on the Arctic HYDRA Research Facility: The S.H.I.E.L.D. agents fly in to the Arctic HYDRA Research Facility. They allow the Bus to be destroyed by HYDRA missiles, as they actually arrive in their Quinjet, so as to trick Doctor List into thinking that they have been killed. The agents, along with Grant Ward, take down the HYDRA operatives in the base to save Lincoln Campbell and Deathlok. List escapes the Facility to travel to Sokovia and help Wolfgang von Strucker. Jemma Simmons tries to kill Ward with a Splinter Bomb, as she is worried that he will betray them again, and wants to kill him before that can happen. However, she misses and accidentally kills Sunil Bakshi instead. Ward is horrified at her, and how much she has changed.
The team fly them back to the Playground to get Campbell and Deathlok intensive medical treatment, but Ward does not travel with them.[47]
28th
29th
May
2nd
3rd
4th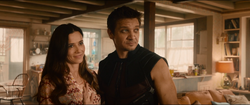 Being both feared and hated by many people worldwide because of Stark and Hulk's fight, the team goes into hiding at Clint Barton's Homestead and get to meet his wife, Laura Barton, and their kids, Cooper and Lila. Still scared by his vision, Thor leaves to find answers. Seeing how being on the team scars them, Bruce Banner and Natasha Romanoff plan to run away together after they help defeat Ultron with the others. Nick Fury, who is also staying at the homestead, inspires the team to ensure they don't lose hope. They then discover that Ultron is trying to become stronger and realize that Helen Cho may be the only person who can help him do that.[48]
Thor arrives in London to speak with Erik Selvig about his vision. They go to a small pond in a cave, said to make people experience their dreams. While in the water, Thor learns of the Infinity Stones and that there is a stone inside the Scepter, the Mind Stone.[48]
5th
In South Korea, Ultron forces Helen Cho to help make him a synthetic body with the vibranium he stole. While the body is being made, Ultron takes the Mind Stone out of the scepter and places it on the android's head. Through the body, Wanda Maximoff finds out that Ultron plans to kill all of the human race. Experiencing a change of heart after discovering this extreme mission, her and her brother flee from him. Ultron leaves the facility and has the body transported by truck.[48]
6th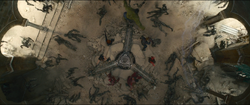 Battle of Sokovia: The Avengers return to Sokovia and begin evacuating people out of the city. Iron Man and Vision confront Ultron, making it so that he is unable to transfer his mind outside of his body or the bodies of his sentries. Bruce Banner finds Natasha Romanoff and frees her. Knowing that the team will need him, Natasha makes Banner transform into Hulk. As the team continues to evacuate citizens, a large portion of the city begins to fly, revealing that Ultron used his remaining vibranium to make the city fly so high that it could fall into the Earth and cause an extinction-level event. In the center of the city, a drill is creating a magnetic field to help keep the city in the air. Soon, Nick Fury arrives with Helicarrier No. 64, and a few former S.H.I.E.L.D. agents, including Maria Hill and Specialist Cameron Klein. They deploy Transporters for people to board and escape the city safely. The Avengers regroup at the drill, fighting off Ultron and his drones so he can't activate it. Ultron's body is heavily damaged, forcing him to retreat. As sentries try to attack the Helicarrier, War Machine joins the fight, having reverted back to War Machine following Iron Patriot, and stops the sentries. Ultron, critically damaged, hijacks the Avengers' Quinjet and begins using it against them. Hawkeye exits one of the lifeboats to save a young boy, but Ultron sees them and begins shooting at them. Pietro Maximoff shields them from the attack, resulting in him being shot and dying. Hulk leaps into the Quinjet and throws Ultron out of it. Believing that the team is constantly in danger because of him, Hulk cloaks the Quinjet, disables all forms of communication, and puts it on autopilot. The Quinjet flies to places unknown with Hulk inside.[48]
Wanda Maximoff finds Ultron and rips his core out to symbolize how she felt after he killed her brother. A sentry reaches the drill and the city begins to plummet towards the Earth. Iron Man and Thor use their abilities to overcharge the drill, making it crumble into many pieces.[48]
Shortly after Sokovia's destruction, Vision encouters the last, heavily damaged, Ultron sentry, being controled by Ultron himself. Ultron tells Vision that destroying him would change nothing and humans would continue on in the path of self-destruction. Vision replied that he knew, but that humanity's imperfections make them graceful, and then he destroys the sentry, in turn destroying Ultron.[48]
7th
8th
9th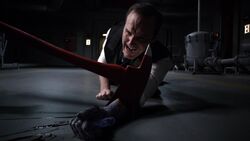 Hijacking and Retaking of the Iliad: A squadron of Quinjets fly to the Iliad and Coulson, May, Fitz and Calvin Zabo are in the lead Quinjet. They receive a message from Skye, that saying that they entering into a trap. Coulson orders the other Quinjets to fall back and his Quinjet continues with the plan. They landed on the ship and receive another message from Skye, that warns them about the Terrgin Crystals. Zabo realizes Jiaying's plane and explains it to them and the S.H.I.E.L.D. team goes to free the ship. Meanwhile, Mackenzie protects the Crystals case in the ventilation room from Gordon and they fight each other. Skye fights Alisha Whitley and her replicates but when their hands are on top, May and Lincoln help Skye to fight against them. Coulson and Fitz join Mackenzie to fight Gordon and Fitz puts his devices in their places. Gordon teleports himself directly behind Fitz, but he is impaled by Fitz' iron pole which he helds. Gordon throws a crystal, but Coulson catches it. Then, his arm starts to petrify, but Mackenzie uses his axe to cut off Coulson's hand. Skye finds her mother going to a Quinjet, so she can release the Terrigen Mist across the world and kill all the humans and create new Inhumans. Jiaying uses her powers to suck Skye's life from her but Skye uses her powers to flip the Quinjet with the Crystals to the ocean. Each one use her power to harm the other but Zabo shows and kills Jiaying, saying he is kipping his promise.[51]
The material of the crystals spreads over the ocean. It contaminates a shoal of fish, which are caught and used to make fish oil pills.[51]
13th
16th
Skye and Phil Coulson visit Calvin Zabo at his new work under his new identity as Calvin Winslow. Since Zabo's memories were erased, he asks for her name and she replies "Daisy". Skye then agrees to Coulson's proposal to lead his new team of powered indivuduals.[51]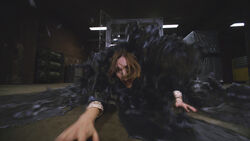 17th
After 6 hours on the planet, Jemma Simmons is talking to herself to keep her spirits up. She starts recording a log on her phone of her observations for her file on the Monolith, and analyses her surroundings. After 13 hours on the planet, Simmons then gets tired and tries to sleep.[52]
22 hours into her time on the planet, Simmons wakes up, startled, and is disappointed that the nights on this planet seem to go on for a long time.[52]
19th
Now having spent 71 hours (nearly 3 days) on the planet, Simmons starts to really get desperate for some Sun, and to go home.[52]
20th
79 hours after her arrival, Jemma Simmons realizes she cannot last much longer without water, and so goes looking. She starts talking to herself, pretending she's talking to Fitz about their planned dinner date, so as to keep her own spirits up and keep going. 10 hours into her search, she stumbles, but determinedly gets up and keeps moving.[52]
Now 99 hours into her time on the planet, Simmons is getting very desperate for water, when she is suddenly caught in a huge sandstorm and passes out.[52]
21st
2 hours after the sandstorm hits, Simmons wakes, completely covered by sand, but she finally manages to find a small pool of some sort of water and gladly drinks from it, relieving her thirst.[52]
27th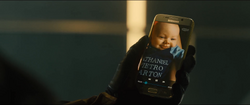 31st
June
6th
492 hours (about 3 weeks) into her time on the planet, Jemma Simmons manages to lure out and kill another of the creatures who live in the pool. She rubs a stick to start a fire and cook the meat, before eating it. She records another message for Leo Fitz, saying that she knows he won't give up, and therefore she will not give up either.[52]
17th
Simmons has now been on the far-off planet for 752 hours (about a month), and is giving fewer updates now to conserve her phone's battery power. She starts recording another message when she notices tall poles planted in the ground ahead, rattling in the wind. Simmons goes to investigate when she suddenly falls through a hole in the ground.[52]
18th
The man appears once again at the entrance to his hideout where he is keeping Simmons prisoner, but yet again he ignores Simmons' cries for him to let her out. She has now been on the planet for 783 hours.[52]
20th
Jemma Simmons is now using the bars of her cage to do chin-up exercises, when the mysterious man turns up at the entrance yet again. When she introduces herself he comes a little closer to her, revealing his face and that he is human. He leaves her food, but still does not trust her.[52]
21st
Having now been on the planet for 851 hours, Simmons starts writhing on the floor, pretending to be poisoned so that the man will open the door to her cage and come in. She tricks him, hits him on the head with her food bowl and runs to escape, injuring herself in the process. The man catches up with her and grabs her, taking her back to his hideout to try and help her. He tells her that "It" can smell the blood and is coming. The man takes Simmons back underground to safety just before the sandstorm sweeps past, and he gives her medical instruments to sew up her wound, before revealing to her that he is called Will Daniels.[52]
Two hours later, the two start telling each other their stories. Simmons discovers that Daniels was an astronaut from NASA, who arrived on the planet in 2001 and has been stranded there for the 14 years since. A little later, Daniels shows Simmons the maps he has drawn for the planet, and they talk about developments in technology. Daniels then starts telling the story of what happened to his team of astronauts in 2001 as they eat a meal together, saying that "It" caused his other three astronaut friends to go crazy and kill themselves, before attempting to kill him. All three of his friends are now dead because of "It", but he has managed to avoid "It" all these years. Daniels and Simmons make a deal to work together to try to get home.[52]
25th
July
2nd
4th
7th
13th
Darren Cross presents the Yellowjacket Suit in a meeting with officials from Pym Technologies and other companies, as well as Hank Pym. Cross also informs Pym that he knows of his past as Ant-Man. Horrified by both sets of information, Pym begins to find a way to stop Cross from continuing his work on the Yellowjacket.[55]
15th
16th
17th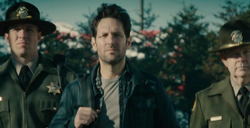 Scott Lang is released from San Quentin State Prison, having served three years of a five-year sentence. Just before his release, he fights his fellow inmate Peachy as a "goodbye ritual". As he leaves, he is picked up by his former cellmate, Luis. Luis tries to interest Lang in helping him on a heist he had been planning with his friends Kurt and Dave. Scott refuses, stating that he is done with crime. He then goes to look for a job, eventually getting one at Baskin-Robbins.[54][55]
Over dinner on the planet they are stuck on, Jemma Simmons and Will Daniels talk about what they miss about Earth, and Simmons shows him a video on her phone made by her friends in Phil Coulson's team of agents for her last birthday. She has now been on the planet for 1,490 hours.[52]
18th
Hank Pym plants an envelope with money and a note in the car of a woman Luis and his cousin Ignacio used to fancy, knowing that the information will work its way to Scott Lang.
19th
At a game of baseball, the boyfriend of the woman Luis and Ignacio used to fancy tells Ignacio the story his girlfriend told him the day before. [55]
Luis goes to a party with Ignacio and they discuss the woman, and her boyfriend's story from the baseball game that morning.[55]
20th
Scott Lang is fired from Baskin-Robbins after his boss discovers his criminal past.[55]
A birthday party for Cassie Lang is held. Scott arrives to the party, but is quickly asked to leave by his ex-wife, Maggie, and her fiancé, Jim Paxton. They tell him he cannot see his daughter again until he provides child support.[55]
21st
Scott, Luis, Kurt and Dave plan and prepare their break in. These preparations include Dave having to steal a car number plate.[55]
22nd
The team break into the house of a man who had apparently left his home unguarded, leaving his large safe unprotected. Lang quickly finds ways to break through the house's security systems, as well as getting through the safe's doors. Once he enters the safe, all he finds is an old suit. He takes it and escapes with the rest of the team.[55]
23rd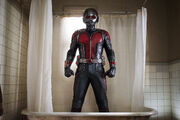 Scott Lang tries on the suit he had stolen from the heist. He presses a button on it and shrinks down to the size of an insect. While in the suit, he can hear the voice of Hank Pym, the creator and original owner of the suit. Lang travels through many different parts of the hotel trying to avoid being crushed by many different people and things. He eventually figures out how to grow back to his normal size.[55]
Scarred by his experience in the suit, Lang goes back to the Pym Residence to return it. The police arrive and arrest him and take him to prison. While in prison, Lang meets Pym in person for the first time. Pym reveals to Lang that he caused all of the gossip that eventually got to Luis learning about the safe. Afterwards, Lang is given the suit by ants sent by Pym. Lang quickly puts on the suit and escapes the prison by riding on an ant. He soon becomes lightheaded and passes out.[55]
24th
28th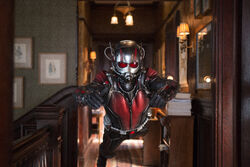 Scott Lang finally masters shrinking, fighting, and communicating with ants, as well as getting to know the many different kinds of ants.[55]
Pym reveals to Hope how her mother, Janet van Dyne, died. Hope finally forgives her father, but Lang interrupts the heartfelt moment, ruining it.[55]
Lang later proceeds to continue with his training.[55]
29th
30th
Duel at New Avengers Facility: Scott Lang is sent to an old Stark Industries facility to steal a device that will help him steal the Yellowjacket Suit and complete his training. As Lang arrives at the facility, he discovers that it has been remodeled into the New Avengers Facility. Lang Scott encounters Falcon, who refuses to let him steal the device. They fight, allowing Lang to put his training to use. Falcon is defeated, much to his embarrassment. Lang takes the device and heads back to San Francisco.[55]
While Lang , Pym and van Dyne discuss their procedure for the heist, Darren Cross breaks into the Pym Residence, originally planning to kill Pym. He changes his mind after encountering him, but calls van Dyne shortly after to tell her to increase the security of the Pym Technologies Headquarters. This makes the team have to augment their plan, eventually seeking help from Luis, Kurt, and Dave.[55]
31st
At a bar, another of Luis' cousins Ernesto talks to a woman, who tells him she spoke to an Avenger that morning, who was looking for a man who shrinks.[55]
Infiltration into Pym Technologies Headquarters: Darren Cross nearly perfects the Yellowjacket suit, inviting Hank to the unveiling ceremony. Scott infiltrates the facility, while Luis, Dave, and Kurt work to get the others through without being detected. Scott reaches the container in which the Yellowjacket suit is being held. Just before he can steal it, Cross traps him in the container and removes the Yellowjacket from it, planning on selling some of the technology to a HYDRA team led by Mitchell Carson. Cross then takes out a gun with the intention of killing Hank, but Scott breaks out, allowing Cross to only shoot Pym in the abdomen. He then tries to escape the facility in a helicopter, but Scott chases after him. Scott manages to make it inside of the helicopter, but Ant-thony is killed in the process. Cross then dons the Yellowjacket suit and fights Lang. The two get trapped in a briefcase and fall out of the helicopter. They land in the backyard of a family. Lang manages to swat Cross into a bug zapper, electrocuting him. Scott is then found by Jim Paxton and arrested.[55]
Duel at Maggie Lang's House: When Cross manages to get out of the zapper, he goes to the house of Scott's ex-wife, Maggie, so he can kidnap their daughter, Cassie. Paxton arrives and Scott manages to put on the helmet of his suit and shrink out of handcuffs. Once in the house, Scott continues his fight with Cross. Scott is eventually forced to shrink into the Quantum Realm to permanently destroy the Yellowjacket and save his daughter. The suit's destruction kills Cross. While in the Quantum Realm, Scott realizes he can use a Pym Particles Disks to re-enlarge himself. He successfully does so, but forgets his experience in the realm shortly after due to his instantanious enlargment.[55]
August
1st
4th
September
19th
It's now been 3,010 hours (roughly 3 months) since Jemma Simmons arrived on the planet, and she is going crazy about wanting to get back home. She wants to go the "No Fly Zone" of the planet, but Daniels warns her that it is too dangerous, so instead Simmons goes out to find food for dinner. However, whilst she is out, she sees a sword in the ground in the distance and goes over to investigate. There Simmons finds the bones of everyone who has come to the planet in the past, and the belongings of one of these people from centuries ago, including a sextant for mapping the stars. She is suddenly caught in another sandstorm, and sees the dark, cloaked figure of "It" a little way away within the storm. Running for her life, she makes it back to her and Daniels' hideout just in time. Daniels tells her she had made a dangerous mistake and wandered into the No Fly Zone, but Simmons says that it does not matter now, as she has discovered a way for them to get home.[52]
20th
Simmons explains to Daniels that the portal is fixed in place, but the planet they are on spins on its axis, therefore meaning the portal appears in different parts of the planet each time. She then explains that they can use her phone battery to power Daniels's NASA equipment and use the sextant to map the stars. Then they can use that data to calculate the speed at which the planet spins so that they can therefore work out where the portal will appear next.[52]
Simmons watches her birthday messages video one last time, knowing that the NASA equipment will use the rest of her battery, then her and Daniels get to work setting up all the necessary equipment over the next few days.[52]
26th
Jemma Simmons has been on the planet for 3,183 hours (over 3 months) when her and Will Daniels finally get the star mapping equipment working and start taking recordings. It soon dies, but not before Simmons has got enough information to work out that the portal will open again 18 days from now, a long way off. Daniels points out that the location is a 40 hour hike away at least, and that they would need to get across a canyon to get there, but she just tells him to start preparing.[52]
October
12th
Having now been on the planet for 3,561 hours, and soon to set off to get to the next portal opening in time, Simmons explains to Daniels that the portal is activated by the alignment of the planet's moons, which is how she calculated when the portal would next open. Daniels reveals that he intends to use a grappling hook and rope to get across to the other side of the canyon, and Simmons says that even if they can't get through, they could send a message in a bottle through the portal to give Leo Fitz instructions on how to help get them back.[52]
Simmons and and Daniels leave for their long hike, discussing what they will do when they get back to Earth.[52]
13th
After a 40 hour hike, Jemma Simmons and Will Daniels arrive at the canyon, only to find it about 100 meters wide, instead of 30 meters like it had been previously, and Daniels suspects that "It" is trying to prevent them from leaving. The portal opens but they are too far away to get across the canyon to it, so instead they decide to shoot their message in a bottle across the canyon and into the portal. The bottle flies towards the portal and is on target but the portal closes too early, causing the bottle to simply shatter on the rocks, and draining Simmons' hope.[52]
17th
Back at their cave hideout, Simmons breaks down as she becomes desperate yet again, thinking she won't get home. However, Will Daniels assures her that she restored his faith when she turned up, and that she should keep that faith that they can survive and eventually get back. The two give in to their feelings for each other and start kissing.[52]
November
27th
28th
29th
30th
December
24th
References