1946
January
16th
February
Howard Stark is on a pleasure trip in Monaco. When he returns he discovers that Someone had cut a hole into the vault at his mansion and stole his inventions stored there. A couple of weeks later his inventions start turning up at the black market.[2]
April
21st
22nd
23rd
24th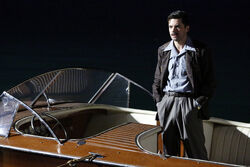 25th
26th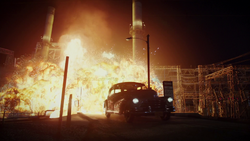 27th
28th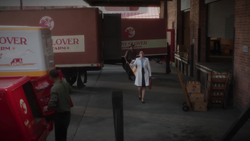 29th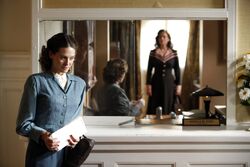 30th
May
1st
Peggy Carter arrives at the New York Bell Company Office to find both the women downstairs and the agents upstairs saddened by the death of Krzeminski. Sousa sees the death of Krzeminski as a reminder that death can happen any moment and thinks the annomynous tipper tricked them into coming, saying that he is going to find that bastard. Roger Dooley tells the agents that he blames Howard Stark and wants action plans to make sure they will not lose any more agents. He tells goes off to call Krzeminski's wife, while Jack Thompson calls his girlfriend.[3]
That evening Carter goes to the "L&L Automat" and tells Angie Martinelli about her job. They then go back to the Griffith Hotel to drink some schnapps.[3]
2nd
3rd
4th
5th
6th
Infiltration into the Red Room Academy: At the Red Room Academy the team decide to split into two groups of four. In the Red Room Academy Carter her group enters a schoolroom focused on the United States of America. Agent Mike Li accidently starts an American cartoon with a hidden message behind it. Li then hears a Little Girl crying. They encounter the kid sitting against one of the beds in a sleeping hall. While Dugan talks to her she manages to get him distracted and stabs him with her knife. She then takes his gun and shoots Junior Juniper, killing him. Carter then stops Dugan from throwing a hand grenade into the shaft the girl used to espace before deciding they have to leave. While Dugan, Rick Ramirez and Pinky Pinkerton search for a way out Carter and the others enter a corridor. After killing the Russian soldier guarding the corridor they find a cell containing doctor Ivchenko and Nikola. Ivchenko tells Carter that they were improsened to build a weapon from a blueprint stolen from Stark. They free the prisoners and in the ensuing firefight with Leviathan operatives Mike Li is killed by the little girl. Nikolai, hoping for his freedom, offers to trade the three Americans if he and Ivchenko are free to leave. Tearfully Ivchenko kills Nikola. Meanwhile Thomspon freezes and is to scared to help in the shootout. A minute later Dugan blows a hole in the wall, allowing everyone to escape. Carter pushes Thompson to man up and leave the building. They then escape with Ivchenko using one of the trucks.[5]
In New York Dooley waits for Edwin Jarvis at his car. When Jarvis arrives Dooley asks him about the fist fight Stark had with McGinnis. When Jarvis says he does not know anything about this Dooley tells him that he just wants to know the truth and gives Jarvis a card with his number.[5]
At the Griffith Hotel Dottie Underwood uses the key she stole to enter Carter her bedroom. Here she steals one of the photos taken in the Strategic Scientific Reserve's lab and the Sweet Dreams Lipstick. She then places the Carter her safety measure back and leaves the room.[5]
As Carter bids farewell to the Howling Commandos, Carter aks Ivchenko if he wants to go with them to the United States, claiming that they could use his help to fight Leviathan. Ivchenko, claiming he has nowhere elso to go agrees.[5]
On the plane ride home, after talking about how he freezed Thompson tells Carter the truth about how he became a war hero. The Japanese he killed entering his camp carried white flags and were attempting to surrender, he just noticed to late and burried the white flags before anyone would notice. Thompson tells her that he always wanted to tell someone this story and that it becomes harder and harder to live with everyone thinking he is a guy he is not. She decides that his secret is safe.[5]
Before going to sleep Underwood cufs her self to the bed.[5]
After debriefing the mission Dooley meets Ivchenko. Thompson invites Carter, who was talking with Daniel Sousa to join them at the bar, telling her he owns her a bourbon. Sousa, now distrustful of Carter, looks at the photo from La Martinique while Carter walks away.[5]
7th
8th
9th
From then on, propavly 3 months later
14th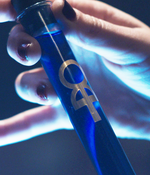 15th
Cite error: <ref> tags exist, but no <references/> tag was found