2015
March
6th
7th
8th
James Wesley reveals to Officer Clyde Farnum that his associates can kill his daughter at any time. He then orders Farnum to kill Karen Page.[1]
Late at night, Farnham tries to choke Karen to death, but she fights back and scratches his right eye. She then screams for help.[1]
9th
10th
12th
14th
Healy goes to a bowling alley to murder Prohaszka. John quickly overthrew the mobster's body guards. He then tries to shoot Prohaszka, but his gun jams, forcing him to find another way to kill him. John eventually kills Prohaszka by crushing his skull with a bowling ball. The police arrive shortly after and arrest Healy.[3]
Ben Urich talks with Silvio about a new criminal leader.[3]
15th
16th
17th
19th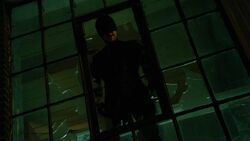 20th
21st
22nd
23rd
24th
25th
27th
Matt is told about Karen and Foggy's investigation of Union Allied Construction. He tells them that in order to do this, they must try and stay on the legal system.[8]
Wilson Fisk orders Officer Hoffman to kill his partner, Christian Blake, in his hospital room. He injects him with a poison meant to quickly kill him. Seconds before it can, the Man in the Mask arrives. Wanting revenge, Blake tells him all he can just before dying.[8]
29th
30th
31st
April
1st
2nd
3rd
7th
8th
Police officers corrupt by Wilson Fisk go to kill Carl Hoffman so he does not leak any information about Fisk's operations. The Man in the Mask stops them and has Hoffman go to Officer Brett Mahoney so he can hire Nelson and Murdock to defend him.[13]
Hoffman is questioned about his involvement with Wilson Fisk. He revealed all of the information he knows of Fisk's crimes.[13]
9th
10th
References