"Eight years without any trouble from those bozos over at Stark Tower, and then this little bastard in red tights shows up, and he thinks he can tear down everything I've built. We're gonna put 'em outta business. We're gonna take everything they got."
―Vulture
Adrian Toomes is the former owner of a New York City salvage company who swore revenge after a rival company run by Tony Stark drove him out of business. Equipping himself with an exo-suit created from stolen Chitauri technology, Toomes took on the identity of Vulture only to come into conflict with both Stark and Spider-Man.
Biography
To be added
Personality
"I want you to understand that I'd do anything to protect my family. I know you know what I'm talking about. So don't mess with me. Don't interfere with my business again. 'Cause I will kill you and everybody you love."
―Vulture to Spider-Man
To be added
Powers and Abilities
Powers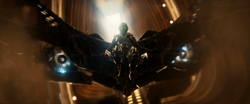 Flight: Vultures suit is outfitted with a powerful winged harness that also has jet propulsion systems which allows him to fly.
Superhuman Strength: The suit gives Vulture the strength to grab and overpower both humans and superhumans, as well as destroy concrete pillars.
Superhuman Durability: Vulture's suit is designed to withstand blows from superhumans like Spider-Man.
Superhuman Speed and Agility: The suits jet propulsion systems allows Vulture to fly at high speeds and maneuver in the air with incredible agility, despite its large frame.
Equipment
Vulture's Exo-Suit: Vulture uses a suit made with Chitauri technology and outfitted with a winged steel harness that allows him to fly.
Beam Gun: Vulture uses a powerful beam gun that is capable of bisecting large ships.
Relationships
Family
Allies
Enemies
Trivia
Behind the Scenes
References
External Links