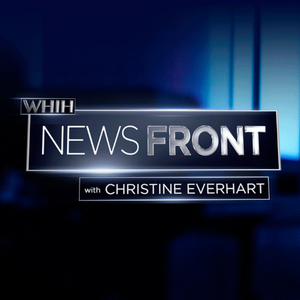 "Be sure to follow us online for those stories and more."
WHiH Newsfront is a online news platform hosted by Christine Everhart from the WHiH World News network, informing about major events in the world with on political, scientific, and entertainment news.[1]
History
In 2015, WHiH World News started a crossmedia online program called WHiH Newsfront. Presented by Christine Everhart, the program consists of videos supported by posts on Twitter and Google+.[1]
Episodes
| Report | Image | Description |
| --- | --- | --- |
| July 2, 2015 | | Christine Everhart talks about next weeks news where they are going to discuss the Avengers and the Battle of Sokovia and the former criminal Scott Lang.[1] |
| July 7, 2015 | | Christine Everhart discussed about the Avengers conflict, the Battle of Sokovia, and a story on criminal Scott Lang.[1] |
| July 10, 2015 | | Security footage of Scott Lang in the crime against VistaCorp.[1] |
| July 15, 2015 | | Darren Cross speaks with WIRED Insider about the future of Pym Technologies.[1] |
| July 16, 2015 | | Christine Everhart interviews Scott Lang.[1] |
| April 22, 2016 | | WHIH Newsfront returns with a special report: The Avengers have saved our world… but at what cost?[1] |
| April 26, 2016 | | Christine Everhart and political correspondent Will Adams ask viewers who should be responsible for all of the cost associated with the clean up and rebuilding process.[1] |
| April 28, 2016 | | Christine Everhart and political correspondent Will Adams debate about the Avengers and the role that the White House and President Ellis should play.[1] |
| May 3, 2016 | | President Ellis discusses his nomination of Thaddeus Ross for Secretary of State.[1] |
| May 3, 2016 | | Newsfront reports LIVE on the scene in Lagos after a devastating incident.[1] |
Appearances
In chronological order:
References
External Links