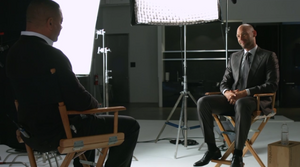 The WIRED Insider: Darren Cross is a video interview from the website WIRED.com with the Pym Technologies CEO Darren Cross. It is part of the promotional campaign for the movie Ant-Man.[1]
Interview
On July 15, 2015 WHiH released a Wired interview featuring Darren Cross discussing the future of Pym Tech. More background information is given in the WIRED article: 'Pym Technologies. Where the Past Meets the Present.'[2]
Characters

Locations
Organizations
Cast
Main Cast:
See Also
References
Ad blocker interference detected!
Wikia is a free-to-use site that makes money from advertising. We have a modified experience for viewers using ad blockers

Wikia is not accessible if you've made further modifications. Remove the custom ad blocker rule(s) and the page will load as expected.