Ad blocker interference detected!
Wikia is a free-to-use site that makes money from advertising. We have a modified experience for viewers using ad blockers

Wikia is not accessible if you've made further modifications. Remove the custom ad blocker rule(s) and the page will load as expected.
The Water of Sights is a spring in a cave on Earth. Thor stated that each one of the Nine Realms is reflected in its waters and that stories about the men who came back out were not good. According to Thor, he stated that if the spring's spirits accept him, it would allow him to recall his vision elicited from Scarlet Witch's powers.
History
Leaving the safe haven provided by Clint Barton's Homestead, Thor told Steve Rogers that he must unlock the secrets of the hallucinations created by Scarlet Witch during the Battle at the Salvage Yard. Thor found Erik Selvig to help him to find the "Water of Sights". Thor entered the pool and lightning engulfed him as he revisited his nightmare. He saw visions of the destruction of Asgard, of the Infinity Stones, and the birth of Vision.[1]
Trivia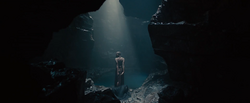 References
External Links