West Virginia is a state located on the northeastern region of the United States of America.
History
Project Insight
West Virginia was one of the intended targets of Project Insight, as some of its citizens were deemed a threat for HYDRA's plans.[1]
Reunion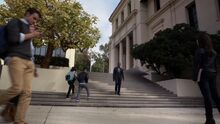 While at work at a campus in Culver University, Andrew Garner was speaking to a student when he spotted his ex-wife Melinda May waiting for him. She explained that Phil Coulson was now running S.H.I.E.L.D. and they required his help with a newly powered individual. They also discussed why May did not return his calls during the HYDRA Uprising; she said it was a busy time, to which he frowned, citing that Lian May kept him informed. Garner asked May if she had returned to field work; Garner disapproved when she said she had. Garner made it clear that his responsibility would be to the subject, not to her, not to S.H.I.E.L.D.[2]
Appearances
In chronological order:
References
External Links
Ad blocker interference detected!
Wikia is a free-to-use site that makes money from advertising. We have a modified experience for viewers using ad blockers

Wikia is not accessible if you've made further modifications. Remove the custom ad blocker rule(s) and the page will load as expected.