"Will he come back?"
―Younger Lord
The Younger Lord was an English noble and a member of the HYDRA society in the 1800's.
Biography
Selection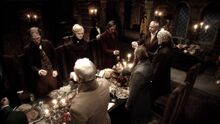 In the 1830's, a group of lords and nobles met in a castle in England to have a lottery; he who chose the white stone from a bag of stones would enter the chamber containing the Monolith. This young lord chose a black stone; Lord Manzini chose the white one.
This lord helped the others prepare food, water, and a sword for Manzini's journey. Hearing Manzini scream as he departed, the Younger Lord asked if he would ever return to Earth; he was told that no one ever had.[1]
Relationships
Allies
References
Ad blocker interference detected!
Wikia is a free-to-use site that makes money from advertising. We have a modified experience for viewers using ad blockers

Wikia is not accessible if you've made further modifications. Remove the custom ad blocker rule(s) and the page will load as expected.